MORE
The long awaited third album from the Resin Dogs Tracklisting 1) Coming With The Sound feat..Haiku D'etat 2) End Game feat. Blue Rum 13 3) Definition feat. Mystro and Hau 4) Fat Cap feat Hau 5) Fine Mess feat. YunGun 6) A Destructive Circle feat. Abstract Rude 7) Peace & Love feat. Demolition Man 8) Space Beats 9) Nasty feat. YunGun 10) Move Up feat. N'Fa 11) Thunder 12) Sex Cells feat. Mystro & Abstract Rude 13) Caught Up feat. Abstract Rude 14) Smoking In The darkness

'Definition' features Mystro (Low Life Records) and Hau (Koolism) on MC duties. Abstract Rude lays a vocal down on 'A Destructive Circle', a track only available on this single. The CD also features two fresh remixes of Hi Fidelity Dirt tracks The Nextmen re-work The Pharcyde on 'Shut Yo Mouth' and Dave A & Brad Balloo remixes Lazy Grey on 'Mad Blunted'. The Dogs have included an instrumental of 'Definition' for the rhymers to throw down their own definition of a real MC.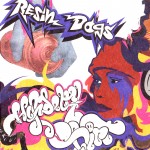 The Dogs 2nd full length album. Produced by Jeff Lovejoy the engineer from the band's first album 'Grand Theft Audio'.guest include >> Pharcyde – Abstract Rude – Spikey tee – Lazy grey & Good Buddha of course. TRACK LISTING 1. Introdogtion 2. Sidesplitter 3. Take Off 4. Latito 5. Shut Yo Mouth 6. Gunshot Dub 7. Funk Is Everything 8. Rebel 9. Adore You 10. I Like It 11. Sho' Sounds Good 12. Mad Blunted 13. Dog Trailer + Songo (Hidden Track)

Wet your appetite for the new Resin Dogs album.. featuring Good Buddha's Andy and Al. The TAKE OFF CD is only available from hydrofunk.com.au TRACK LISTING 1. Take Off Featuring Good Buddha 3.29 2. Take Off (Tor remix) 4.36 3. Door Jammer 3.29 4. Grinnin (feat Rip One) 2.31 5 Takeoff (a cappella) 3.31

Set It Off sees the Dogs collaborating with Abstract Rude, legend in his own right and member of California's seminal underground rap collective, the Freestyle Fellowship. The Cd single contains two B-sides, Whatcha Gon' Do and N.R.Jize, as well as two Set It Off remixes, both from the U.K.. The first of these remixes is by Dynamo Productions from the Illicit Records camp, which combines the talents of Portishead's Andy Smith and Scott Hendy of Purple Penguins and Boca 45 also on Illicit Records. The second U.K. remix is provided by Superdense Child, London's Marble Bar label mates of the Resin Dogs. Be sure to check out the awesome new hi-tech animated video! TRACK LISTING 1. Set It Off 2. Watcha Gonna Do 3. N.R.JIZE – 4. Set It Off – Dynamo Remix 5. Set It Off – SDC Remix

Live Like Dogs The Official Bootleg $10.00aud Here it is, every one has been screaming for this one so we brought it back. Very Limited Numbers available!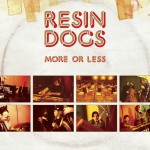 The 'More' LP itself is a who's who of collaborators with the likes of ARIA Award winning Hau (Koolism), Demolition Man, Mystro, N'FA and BluRum13, Haiku D'Tat and Abstract Rude. This tradition continues in style with 'More or Less'. Some of the producers who have been enlisted to remix tracks on the LP include Two Fresh, the freshest brotherhood in dance, Plutonic Lab whose production skills have featured on over fifty LPs/Singles & EPs on a variety of labels, roots, reggae and jazz master, Chasm, who has recently worked with his crew 'Astronomy Class' on the critically acclaimed 'Exit Strategy' and Northwode.